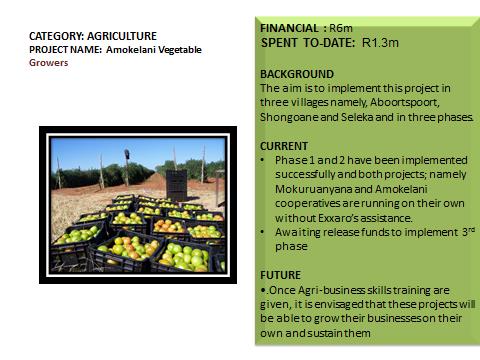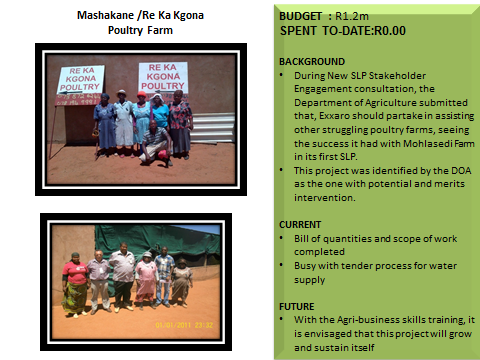 Exxaro in partnership with the Eskom Medupi project is funding the development of a Lephalale Agriculture Masterplan. The plan will guide the Municipality in sourcing funding for Agricultural projects in and around Lephalale. Projects have successfully been launched at Mokuruanyane and Amokelani.
Farm worker of the year 2015
The winner of this year's competition was Simon Modimola from the farm Rietfontein. Simon walked away with a cash prize of R10 000. The winner in the category Game farming was Jim Makgae from the farm Grafton. In the category Livestock farming, Hiskia Mafisa from the farm Nooitverwacht walked away with first prize. Among the irrigation farmworkers, Jacob Mosima from the farm Weltevreden came out tops. All three received a cash prize of R5000 each.
Delegates from the Department of Agriculture, Agri Limpopo as well as councilors and officials from the Lephalale Municipality attended the prestigious event. The Acting Mayor, Cllr W Motlokwa welcomed the delegates and thanked all who contribute positively towards agriculture in the area. The guest speakers at the event were Ouke Jongbloed, a farmer mentor and Phophi Raletjena, the son of a farmworker turned farmer. Both were very inspiring and encouraged farmers and farmworkers to work together in transforming agriculture in the area. The Chairperson of Agri Lephalale, Francois van den Berg thanked the Municipality for the initiative and all who contributed to making this year's Farm Worker of the Year competition a great success.
The information transmitted is only to be viewed or used by the person/s or entity to which it is addressed and may contain confidential and/or privileged material/information. The Lephalale Local Municipality(LLM) reserves the copyright to all contents of the LLM information contained in e-mail messages. The views and opinions expressed in this transmission are those of the sender and do not necessarily represent the views and opinions of the LLM. The LLM cannot assure that the integrity of this communication has been maintained nor that it is free from errors, malicious code, interception or interference. Under no circumstances will the LLM or the sender of this e-mail be liable to any party for any direct, indirect, special or other consequential damages from any use of this e-mail.